Overall, I really enjoyed The Princess Bride. I think it is very well written and I would definitely recommend it to anyone looking for a good book.

I have also mostly enjoyed my experience blogging about this book. It is a lot of work, but I enjoy getting to share my thoughts and ideas in a less formal way than an essay. I had a lot of fun getting to customize my blog and add different features. However, I wish it would be easier to find photos to put on my blog. I am not allowed to use copyrighted photos, so when I do find a picture I like I often can't use this. For me, this was probably this most stressful part of blogging.
Powered by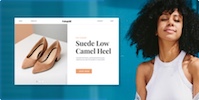 Create your own unique website with customizable templates.